XP-Pen is a professional and well-known provider of creative digital devices like graphic tablets, drawing pen displays and digital pen stylus.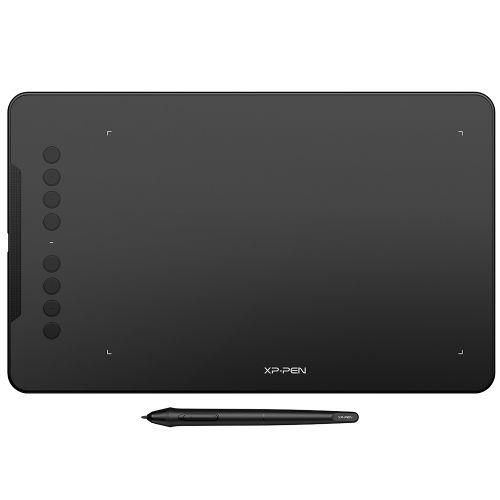 The Deco 01 V2's expansive tablet is big and brilliant! It comes with a 10 x 6.25-inch working area so you have more space to create and get work done.
Sketch, paint, design, and edit photos on your tablet. A unit powerful enough to help you take your ideas even further.
At only 8mm thick, you can take it anywhere without the burden of lugging around a heavy tablet!
Ideal for your web conferencing or distance learning.
Simultaneous digital inking with an XP-Pen graphics tablet compatible with Microsoft Office apps like Word, PowerPoint, OneNote and more. Visually present your handwritten notes and signatures precisely – ideal for your web conferencing or online teaching needs.
Engage, inspire, and immerse students and attendees like never before.
Teachers and speakers can create and explain interactive content visually by writing, editing, and annotating directly in files and sharing their screen in real-time while streaming, broadcasting, or web conferencing. This flexibility allows the flow of creative ideas and the problem-solving process to be presented intuitively and efficiently.
Enhance your Chromebook experience
You can now use Chrome OS on your XP-PEN Deco 01 V2, allowing you to write and create digitally effortlessly. You can then share and collaborate with teachers and classmates, creating an interactive class atmosphere even in a virtual learning environment. The stylus offers the functionality of a standard mouse, meaning that you can write, edit, draw and navigate on your Chromebook with ease.
Compatible with most Operating Systems and applications.
Compatible with Windows®10/8/7, Linux (Detailed versions), Mac OS X® 10.10 and above, Android 6.0 and above, and Chrome OS 88.0.4324.109. Also compatible with many major designer software such as Photoshop®, SAI®, Painter®, Illustrator®, Clip Studio®, and more.
* Please update your Chrome OS to 88.0.4324.109 first.