Helps stop cryptocurrency mining malware damaging your PC's performance.
With so much of your life stored on your PC, it's important that you do all you can to protect it, Kaspersky Anti-Virus is the essential antivirus for blocking the latest viruses, ransomware, spyware, cryptolockers & more – and helps stop cryptocurrency mining malware damaging your PC's performance.
Kaspersky Anti-Virus 2020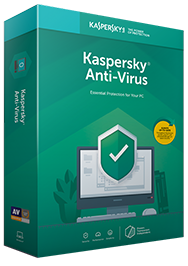 Delivers real-time antivirus protection
Blocks ransomware, cryptolockers & more
Prevents cryptomining malware infections
Lets your PC perform as it's designed to
Simplifies security management
50% Off
1 year from €14.49
2 years from €23.20
Kaspersky Anti-Virus
Delivering essential antivirus for your PC – blocks viruses & cryptocurrency mining malware.
Protecting you… starts with protecting your PC. The essential PC protection defending against viruses, ransomware, phishing, spyware, dangerous websites and more
It automatically scans your PC to find threats – including new drive-by cryptomining infections that could seriously damage your PC's performance. And, if your PC is infected, Kaspersky technologies help you to rescue & reset it.
Kaspersky Award winning security helps protect you against cybercrime, viruses, spyware, Internet attacks and more – so your family's not just connected… they're protected.
Every time you go online shopping or banking, cybercriminals could be watching. So our unique security helps to protect money and account details – to stop fraudsters stealing them.