All your security needs in one product
Get the unmatched feeling of security with award-winning protection against hackers, viruses and malware. Plus payment protection and privacy tools that guard you from every angle on every device.
With all their apps & devices – plus all the websites they visit – it takes a lot to protect your family from hackers, attackers and ransomware.
Kaspersky Total Security 2020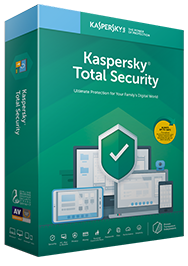 Included premium features:
FREE VPN with up to 300 MB of traffic per day
FREE Kaspersky Password Manager Premium
FREE Kaspersky Safe Kids Premium
50% Off
1 year from €23.20
2 years from €40.59
Kaspersky Total Security
Giving you & your family the ultimate protection – on PC, Mac & mobile.
Kaspersky Total Security helps protect your family – when they surf, shop, socialise or stream. Plus, extra privacy protection securely stores their passwords & key documents… protects files & precious memories… and helps safeguard kids from digital dangers.
Protects privacy, passwords, files & photos
Protects money when you bank & shop online
Protects your children… online & beyond
System Requirements
For all devices
Internet connection required – for product activation & updates and for access to some features
Webcam Protection technology only runs on PCs & Mac computers. The feature is available for a range of compatible web-cameras. For the full list of compatible devices, please visit: https://support.kaspersky.com/14102#block1 (for PCs) and https://support.kaspersky.com/14248#block1 (for Mac Computers)
Windows®-based desktops and laptops
1500 MB free space on the hard drive
Microsoft® Internet Explorer® 10 or higher
Microsoft .NET Framework 4 or higher
Microsoft Windows 101 Home / Pro / Enterprise2 3
Microsoft Windows 8 & 8.1 / Pro / Enterprise2 / 8.1 update3
Microsoft Windows 7 Starter / Home Basic & Premium / Professional / Ultimate — SP1 or higher3
Processor: 1 GHz or higher
Memory (RAM): 1 GB (32-bit) or 2 GB (64-bit)
Windows-based tablets (system with an Intel® processor)2
Microsoft Windows 101 Home / Pro / Enterprise2 3
Microsoft Windows 8 & 8.1 / Pro (64-bit3)
Minimum screen resolution: 1024 x 768
Mac desktops and laptops
3115 MB free space on the hard drive
Memory (RAM): 2 GB
macOS 10.12 or higher
Android smartphones and tablets4
Android™ 4.4 or higher
Minimum screen resolution: 320×480
Please note: Kaspersky do not support the beta versions/previews of new operating systems. Only final, officially released operating systems are supported by the product.
1 If you're using Windows 10, you might need to download & install all available patches for your Kaspersky Lab security software. Product is not intended to operate on Windows 10 Mobile/S editions.
2 The Kaspersky Safe Kids service isn't available for this version of OS or these types of devices.
3 Some product features may not work on 64-bit operating systems. Please visit https://support.kaspersky.com/13812 to get more details.
4 The Kaspersky Internet Security for Android functionality may currently be limited on certain devices. Please visit http://support.kaspersky.com/10216 for more details. If you are using Kaspersky Safe Kids on Xiaomi© or ASUS© devices, please visit http://support.kaspersky.com/12980 for more details on how to setup & use the service.
5 Only Kaspersky Password Manager & Kaspersky Safe Kids are available for these platforms.