SETAPP Software.
High-quality Mac Software for you!
Setapp is a hand-picked collection of quality software, packed with prime apps. There's no store — just a folder on the Mac, and no hidden costs — just a flat monthly fee. It's simple and users love it.
Setapp is a desktop suite with a collection of Mac apps inside, like a portable Launchpad. With over 150+ popular apps like CleanMyMac and Gemini, Setapp is designed to be an alternative to a Mac App Store.
In Setapp, you always get the best, most recent version of every app without lifting a finger. Your apps simply upgrade automatically in the background. A single fee also means no license codes for every app and no extra charges, just a lot of great apps right on your Mac.
SETAPP for Education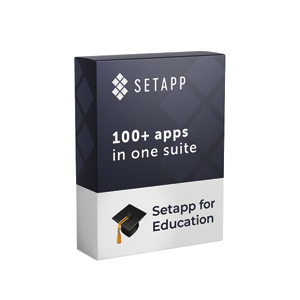 An effortless collection of top school apps, at a fraction of their price. All for you, because academia is no picnic.
Write flawless papers.
Conduct better research.
Manage your budget.
Get focused and productive.
Cram for exams faster.
Balance life and studies.
100's of Apps for academic writing, research, budget, backup and recovery and more.
7 days of free test drive and a discount for students.
50% off for students
Requires institutional affiliation
SETAPP for Individuals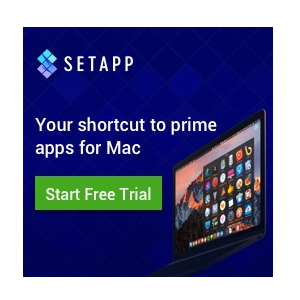 Not a student then for a single fee, you get more than a hundred Mac applications in one suite. They cover multitudes of daily tasks from lifestyle and productivity to web development and Mac maintenance.
Setapp membership includes full access to the app collection, app updates, and new additions.
You can install and uninstall the apps in a click.
Every app has been carefully selected and added on a contract basis with its creators.
Free for 7 days
As a part of our partnership with SETAPPP, we are happy to provide you with an exclusive 20% discount on Setapp Annual Plan.
How Setapp works
In a nutshell, beautifully. Setapp is a desktop suite with a collection of Mac apps inside, like a portable Launchpad. With a Setapp membership, all of the apps are yours.
One signup, one fee, one perfect suite of apps.
Simply download the Setapp desktop app to explore your new collection. It's an ever-growing suite with tools for every task on Mac.
Discover new favorite apps every day
Having 160+ applications means endless joy of discovery. You define the task, we make sure you have the solution.
Use on more Macs, share with more people
Spend one week free, exploring all Setapp has to offer. If you dig it, sign-up today or have a large family? Get a family plan.
And more …