Article Date: 12th September 2020
Free Trial
One convenient subscription for up to six people, try Microsoft 365 Family free for one month.
Shop now

Latest Deals.
Get a free upgrade to Windows 11 on Surface Pro 2, Surface Pro X, Surface Laptop 3, Surface Laptop Go, Surface Go 2, Surface Book 3 and Surface Studio.
Learn More

Latest Deals.
Shop the Microsoft range of products and services exclusively available on the Microsoft Store. Xbox Game Pass Ultimate 1 Month for €1.00, exclusive Surface devices, and more.
Learn More


As Microsoft continues to expand its Surface family of devices, the goal is to design a Surface for every person, every work style, and every location, scaling from the most portable to the most productive.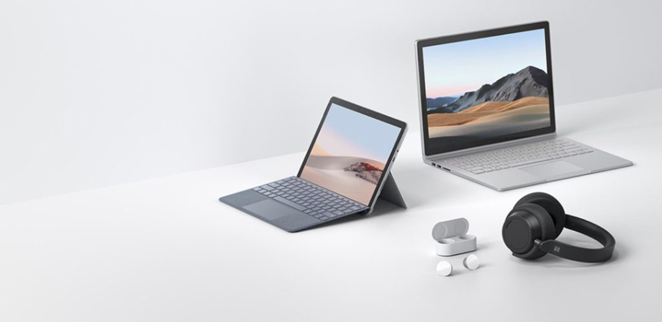 Available for preorder today, new Surface devices and accessories are designed to help you work, learn, connect, and play from anywhere.
The new Surface Go 2, Surface Book 3, Surface Headphones 2, Surface Earbuds, and accessories are designed to help you do what you need, from anywhere – a concept that has taken on new weight since Microsoft first started working on these products. Instead of planes, coffee shops, and offices, we're moving from home office to kitchen table to couch, but our need for devices that keep us productive and connected has never been greater.
Microsoft is announcing four new products and new accessories to give you devices that can switch context as quickly as you do to take you from work to play to everything in between.
Surface Go 2 delivers incredible value in a light, portable design, providing a great device for anyone in your company or family.
Surface Book 3 is our most powerful laptop ever. Designed for professionals who need desktop-level performance from anywhere, this is the powerhouse workstation.
The Surface Headphones 2 and Surface Earbuds complete your Surface experience, helping you find focus wherever you are and stay connected to the people and content that matters.
The Surface Dock 2 and the multi-port Microsoft USB-C Travel Hub help you set up the ultimate workspace wherever that may be.
Special pricing available for eligible students, parents and teachers.
All prices quoted correct as of 1st November 2020 and are subject to change. Deals and Discounts not applied unless otherwise stated. Products available through the Microsoft Store, Software4Students are a Microsoft Affiliate, please see our disclaimer for more information.  All images used are for illustration purposes only.