Student Discount.
Parallels Desktop for Mac Student and Educator Edition, save 50% on the special academic version of Parallels Desktop.
Learn More
Run Windows on a Mac without Rebooting
Parallels Desktop® 18 is the fastest, easiest, and most powerful application for running Windows® on Mac®—without rebooting. Includes 30+ utilities to simplify everyday tasks on Mac and Windows.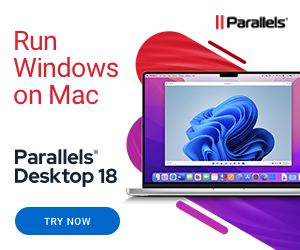 Run more than 200,000 Windows apps on a Mac, including Microsoft Office for Windows.
Download and Install Windows OS on your Intel or Apple M series Mac computer.
Seamlessly copy and paste text or drag-and-drop files between Mac and Windows.
Develop and test across multiple OSs in a virtual machine for Mac.
Run Windows applications effortlessly without slowing down your Mac.
Fast, Powerful, and Easy
Run thousands of Windows apps like Microsoft Office, Internet Explorer, Access, Quicken, QuickBooks, Visual Studio, even graphic-intensive games, and CAD programs without compromising on performance or rebooting.
Seamless
Use Windows side-by-side with macOS (no restarting required).
Easy Setup
Parallels Desktop automatically detects what you need to get started so you are up and running in minutes.
Lightning Fast
Resource hungry Windows applications run effectively without slowing down your Mac.
Choose your View
Use Windows invisible while still using its applications in Coherence Mode.
What's new in Parallels Desktop 18
Packed with over 20 powerful must-have features (optimized for macOS Ventura, Intel and Apple M series chips) and has everything you need to boost performance.
Easy to Set Up – Download, install, and configure Windows 11 in one click.
Optimized for the latest Apple Hardware – Improved compatibility with Apple's ProMotion technology delivers optimized synchronization between Mac and Windows.
Enhanced Gaming Experience – Automatically use your Xbox or DualShock Bluetooth controller for the ultimate gaming experience.
Exciting features include Powerful new features for Apple M series chips:
The Parallels Desktop experience on a Mac with Apple M series chips just got remarkably more powerful and seamless:
Easy to Set Up
Parallels Desktop 18 makes it easier to set up your virtual machines. Download, install, and configure Windows 11 in one click. Free ready-to-use Linux systems can also be downloaded to your Mac.
Windows Performance
With Parallels Desktop you can use a high-performing Windows application like Run Visual Studio, SolidWorks, Autodesk, and other resource-intensive apps on your Mac. No need to turn to a PC to run Windows apps.
Increase Productivity
Parallels Desktop deeply integrates Windows with your Mac so you can seamlessly move and share clipboard content, files, folders, and images between your Mac and Windows. Coherence mode will help you focus by hiding the Windows desktop so you can use Windows apps just like Mac apps.
Support for recent Linux releases
This version delivers support for recent Linux releases, including Ubuntu 22.04 LTS, Fedora 36, CentOS Linux 9 Stream, Red Hat Enterprise Linux 9, Kali Linux 2022.2, and more.
Boot Linux ARM VM via network
Linux users can now enjoy using NetBoot with a Linux ARM64 virtual machine (on Mac computers with an Apple M series chip).